(Ln(x))3
The everyday blog of Richard Bartle.
RSS feeds: v0.91; v1.0 (RDF); v2.0; Atom.
---
4:21pm on Tuesday, 19th January, 2021:
BB
Outburst
This key bbounce I'm getting from the bb on my keybboard is really bbegining to annoy me.




---
10:59am on Monday, 18th January, 2021:
Live
Anecdote
I gave my first live Zoom lecture today. It did not go well.

It started out well enough, but one of the students pressed the hand-raise button. I couldn't see which student it was, because it didn't show in the attendees list. I carried on lecturing from where I left off, but apparently Zoom had decided not to keep sharing my screen. Students were trying to tell me using the Q&A channel, but I couldn't see that because I had a screen full of lecture slides. I could see in the chat channel, because that sent me an interrupt every time someone typed something there; unfortunately, no-one did type anything there, they only used the Q&A channel.

End result: students could hear me lecture but couldn't see what I was talking about. Augh!

It's just as well I'd also pre-recorded the lecture as a precaution.




---
11:17am on Sunday, 17th January, 2021:
Endoscope
Anecdote
This image may look as if James Bond is about to walk in from the right and shoot at you, but no! It's a photo of the cavity under the flat roof of our house's extension, which we were investigating because the lights there have no power running to them.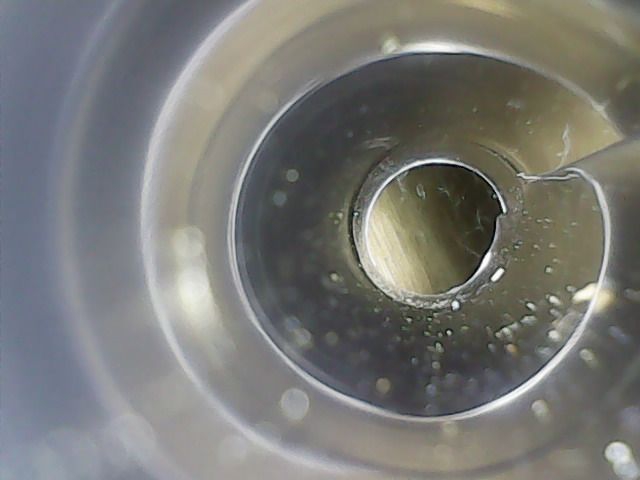 I bought an endoscope for this very purpose. It's an industrial endoscope, rather than an up-your-endoscope as favoured by medical practitioners and those space aliens who abduct people, and I have to say that it's not bad for £30. What is bad is that the electricial we called to check out the wiring didn't have one. I'd have thought he'd have had enough room in his van for one, given that ours came in a box measuring 13cm by 14cm by 5cm and it's not exactly expensive. The reason the photo has a circle around it is because the camera kept catching on the insulation after 20cm or so, so I had to poke a bendy metre-long tube in first to run the camera through in order to see where the cables I was following went (not-entirely-unexpected answer: the light switch).

The problem with the lighting seems to lie somewhere between the light socket and wherever it taps into the mains. I know this because if mains electricity was reaching the light socket I'd be dead. As for where the cables from the light do tap into the mains, though, well the cables in question immediately dive through a joist so we don't know. My cable-detection device doesn't pick up anything, so we're going to have to drill some inspection holes to figure out what's going on.

At least I know the cables are dead, so if I drill into one I'm not going to give myself an unnecessary heart defibrilation.




---
12:31pm on Saturday, 16th January, 2021:
Assignment Guidelines
Anecdote
Well I may be only part-time but I find myself having to work on Saturday to get this dumped-on-me-out-of-nowhere stuff out of the way.

Here's what I did this morning, in response to yesterday's email.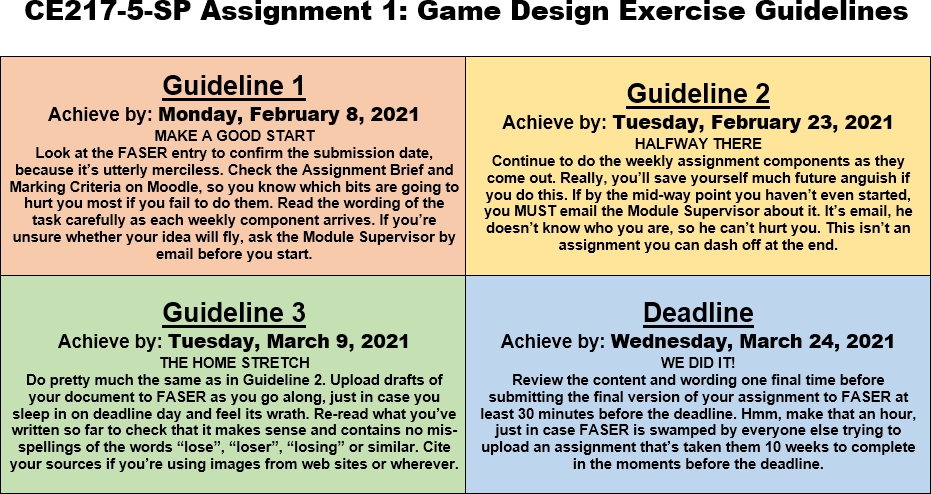 As you can see, the text isn't all that long. I merely had to take a template and change the content of the paragraphs in each block so they were individualised for my assignment. I did the same for CE317. It took about 20 minutes.

The remaining hour was spent finding the powerpoints for the lectures into which I had to insert this slide, then inserting it. It took so long because I had to figure out the dates upon which the lectures would be delivered, my not having done so previously because the dates kept being changed (and could indeed still be changed, even though teaching starts two days from now). I also had to locate and strip out the place-holder slides from last year that I had retained because I just knew we'd have something like this dropped on our plates with a generous deadline of three days to comply (one day if you don't count the weekend). Oh, I also had to despatch an email to say what I'd done.

I'm sure the students will appreciate all this effort and will give Essex University high marks in the National Student Survey in March.




---
10:32am on Friday, 15th January, 2021:
Friday Morning Email
Outburst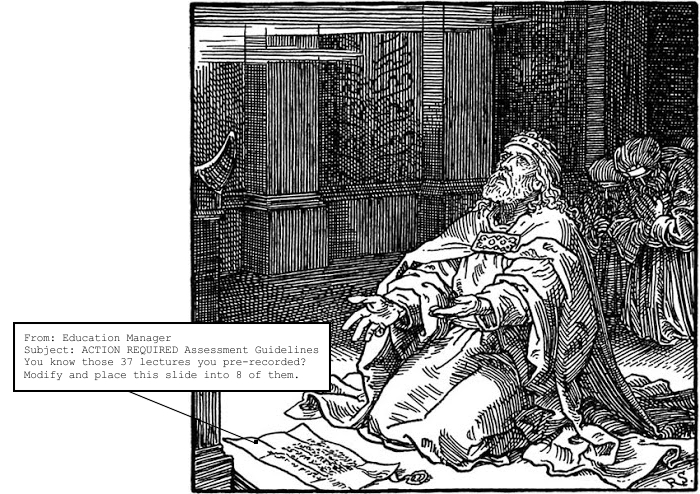 ---
5:52pm on Thursday, 14th January, 2021:
Pre-Recorded
Anecdote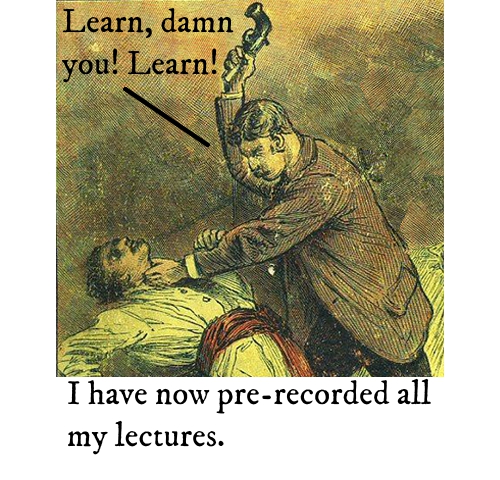 ---
6:33pm on Wednesday, 13th January, 2021:
Deadline
Comment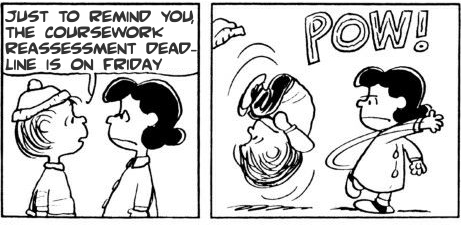 ---
2:44pm on Tuesday, 12th January, 2021:
Time Management
Outburst
Some of the modules in Computer Science and Electronic Engineering at Essex University require access to specialised hardware. Because of the ongoing pandemic, students can't be packed into the labs in the usual numbers, so some modules are having to hold multiple labs. I was informed yesterday that because there's at least one Game Design student who also takes the Computer Security module, one of my CE217 lectures would be moved. I wasn't told which one was being moved, just that my timetable would be updated at 10pm. This is despite the fact that we were told our timetable had been set in stone on December 18th.

I logged in this morning to discover that two modules had been moved, rather than one. Teaching begins next week, as do student supervisory meetings. I had three meetings set for the period where the new lectures landed, plus a fourth that was still in negotiation for one of the slots. I also had other meetings to request changes to, with the result that it took me two whole hours to sort everything out.

I asked the School Office if my timetable was safe now or if other changes could be incoming. The answer was that there might be other changes incoming and no-one's timetable is fixed, because there are still some conflicts to be resolved. One of my lectures could be moved because of the ripple effects of a clash between two unrelated modules. So could lectures that my students take. I could have to spend another two hours on Friday rerescheduling everything.

I wouldn't care, but my two-hour lectures aren't actually likely to last longer than 15 minutes. I've pre-recorded everything (well, except one CE217 lecture I'll try to do tomorrow) so the live slots are for questions and answers.

Augh! This is what comes of giving the Timetable Office the power to mutate the space-time continuum.




---
8:57am on Monday, 11th January, 2021:
3 3 3 1 43 25
Anecdote
I thought I'd take another inventory of things I encountered on the road during my half-hour stave-off-decrepitude cycle ride this morning.

3 people walking
3 people walking dogs
3 joggers
1 cyclist
43 vehicles coming the opposite direction to me (including one bus)
25 vehicles overtaking me (including one bus and one motorbike)

I did notice that a large proportion of the cars that I encountered were BMWs, Audis or Mercedes, which was also the case in the first lockdown. Before Covid-19 struck, I wasn't aware that so many key workers possessed these cars, but either they do or (surely not!) there's a higher number of people flouting lockdown rules who own expensive cars.

Sadly, the trafffic census I took is not all that informative because there was a diversion due to a water main leak, so that messed up traffic (and water) flows.

Also, I had to change route when I realised early on that I was going to have to pass a man taking two donkeys for a walk, for which I didn't have a category.




---
8:42am on Sunday, 10th January, 2021:
Birthday
Anecdote
It's my birthday today. I'm 61.

61 sounds old, but if you rotate the numbers 180 degrees you get 19 and 19 felt old when I reached that age. All birthdays after 18 felt old to me.

The difference, of course, is that 61 is old objectively, whereas 19 was old subjectively. That said, 61 will probably not sound old should I reach 91.




---
10:29am on Saturday, 9th January, 2021:
Healers and Tanks
Comment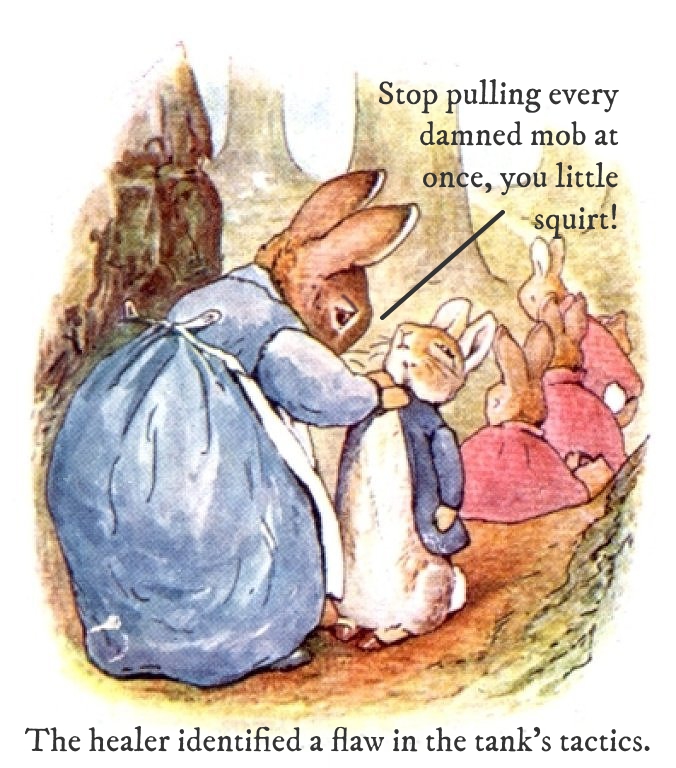 ---
11:02am on Friday, 8th January, 2021:
Frost
Anecdote
Because I'm from Yorkshire, I like to have a white rose growing in the garden.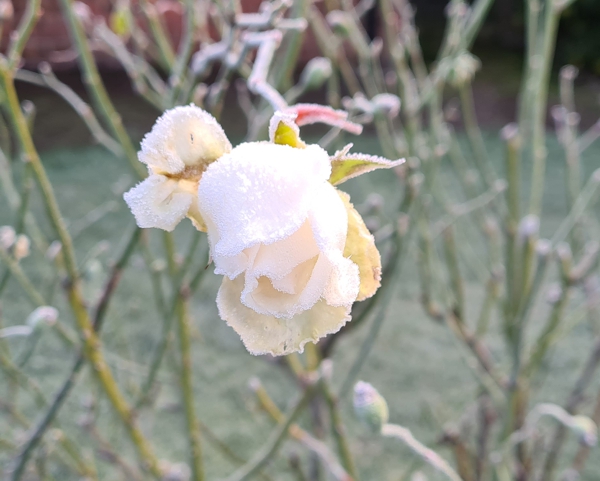 I have to say, they're better at handling frost than I am.




---
3:08pm on Thursday, 7th January, 2021:
California 1872
Anecdote
Although the historical maps I mainly collect are from Europe in 1872, I do occasionally have cause to buy others. This is an 1872 map of California.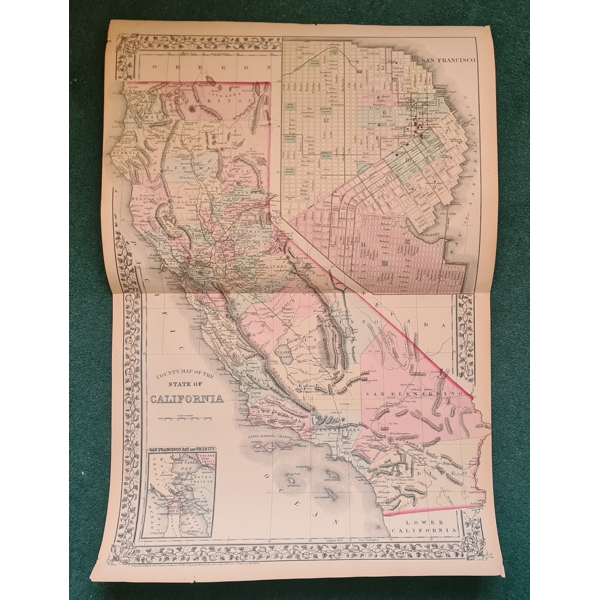 I bought it because I'm working on Lizzie Lott #4 at the moment. It's a really useful map!

OK, so there's a super-high definition version of it on Wikimedia that it would have been useful to have discovered before I bought this, but sadly my impetuous map-buying instinct won out.




---
3:31pm on Wednesday, 6th January, 2021:
Statins
Anecdote
I was put on simvastatin, the cholesterol-reduction medication, over a decade ago. This was because my brother had recently died of a heart attack and my doctor decided that I should endeavour to avoid the same fate.

I stayed on them until about this time last year when my supply ran out. The pharmacist was rather vague about why my prescription had stopped, but I gathered that I was supposed to go to have a blood test. As I was approaching my 60th birthday, I figured I'd be called in for a blood test anyway so I waited in order to kill two birds with one stone.

Unfortunately, Covid-19 came along and I never did get the call for a new blood test. I therefore took no statins for about a year.

It occurred to me back in November that it might be an idea to try to get my prescription back on track, given that I wasn't going to get any kind of general check-up, so I arranged a blood test (which I passed: it was indeed blood). Christmas got in the way, but I had a phone consultancy with a doctor earlier this week and my statin prescription was renewed. I'm on 20mg of Atorvastatin now, rather than the 40mg of Simvastatin I was on before; apparently, this is A Good Thing.

Our local pharmacy is not exactly quick. They allow four customers inside the shop at once, and there were four in line outside the shop when I arrived. It took me 15 minutes to get inside and another 15 minutes to be served. According to the government's coronavirus stats, there are 54 people with Covid-19 in my postcode area and the rolling rate of infections is 814 per 100,000 people. We were all wearing masks and standing at least two metres from each other, but given how catching this new variant is I didn't feel exactly safe.

On the plus side, I didn't have to pay for my prescription because prescriptions are free for people aged 60 and over. That was a pleasant surprise.




---
4:21pm on Tuesday, 5th January, 2021:
Bureaucracy
Comment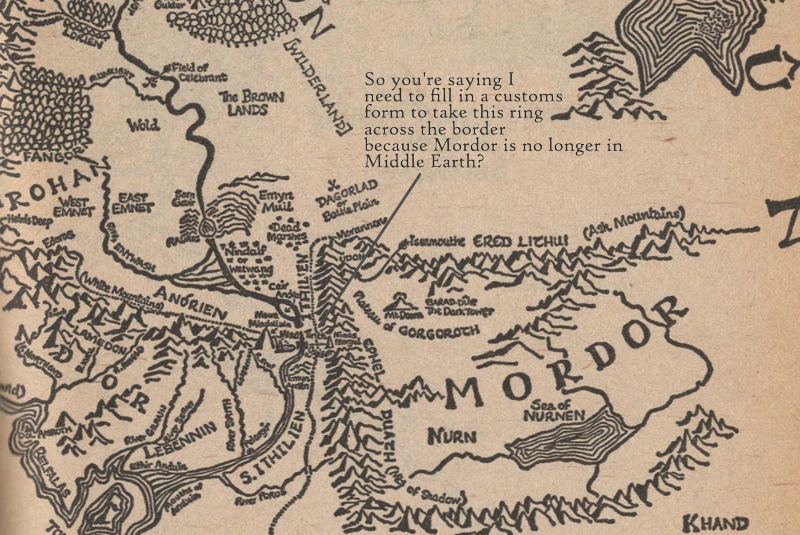 ---
Latest entries.
Archived entries.
About this blog.
Copyright © 2021 Richard Bartle (richard@mud.co.uk).