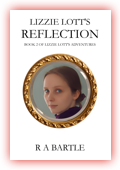 Lizzie Lott's Reflection
R A Bartle
70,000 words
2016
Format: Print, Kindle
It's 1870, and Lizzie Lott is an ordinary 15-year-old girl except for her extraordinary physical strength.

Following the events of Lizzie Lott's Sovereign, Lizzie is left in peace by the Knights of Saint Judas, so that she can have as much of a normal childhood as possible. All too soon, however, a vision of the future foretold by the enigmatic Sir Edwin drags her back into their secretive world, as — accompanied by the gregarious Sir Frances — she attempts to prevent an unknown enemy from threatening the very existence of the Order itself.

Can Lizzie break free from the confines of Sir Edwin's unrelentingly powerful gift? Who is this mysterious knight, anyway?
This is the second in the series of Lizzie Lott's Adventures for young adults.
Lizzie Lott's Reflection is available here in both electronic and print format.
Lizzie Lott's Reflection fits the NotByUs paradigm because it's historical fiction about people with scientifically-plausible superpowers.