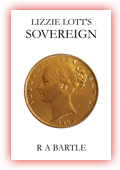 Lizzie Lott's Sovereign
R A Bartle
47,000 words
2011
Format: Print, Kindle
It's 1869, and Lizzie Lott is an ordinary 14-year-old girl with a rather extraordinary gift: phenomenal physical strength.

One event-filled night, she is recruited to the ranks of the mysterious Knights of Saint Judas, a secret organisation made up of shadowy individuals who all have their own unusual abilities. Her task: to uncover a French plot to destabilise the country — a plot which threatens the life of Queen Victoria herself!

Can Lizzie survive the strange, new world of intrigue and espionage into which she has been so unexpectedly thrust? And will she ever discover just why it is she's so weirdly strong?
This stand-alone action adventure for young adults is the first in a projected series of seven.
Lizzie Lott's Sovereign is available here in both electronic and print format.
Lizzie Lott's Sovereign fits the NotByUs paradigm because it's historical fiction about people with scientifically-plausible superpowers.