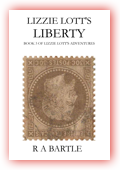 Lizzie Lott's Liberty
R A Bartle
94,000 words
2021
Format: Print, Kindle
It's 1871, and 16-year-old Lizzie Lott is learning many different skills as a member of the Knights of Saint Judas.

Her best friend, Susan "Chrissy" Eve, who uses a wheelchair, asks Lizzie to escort her to Paris. Paris is only recently out of siege and a German army is encamped outside, so the Order does not want Lizzie to go. Lizzie is defiant, however, and accompanies Chrissy so that she can pay the fine to release her brother (a German spy) from prison. Unfortunately, the two young women arrive just as an insurrection begins, which changes their plans drastically.

Can Lizzie help free Chrissy's brother from prison and smuggle him out of Paris before it burns? What is this strange idea of a Commune, anyway?
This is the third in the series of Lizzie Lott's Adventures for young adults.
Lizzie Lott's Liberty is available here in both electronic and print format.
Lizzie Lott's Liberty fits the NotByUs paradigm because it's historical fiction about people with scientifically-plausible superpowers.