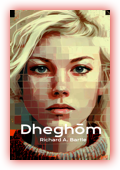 Dheghōm
Richard A. Bartle
53,000 words
2023
Format: Print, Kindle
A man dies, but wakes up alive. Beings with impossible powers fight petty battles among themselves. An ancient organisation struggles to redefine its purpose. A prehistoric bowl is stolen from an Eastern European warehouse. Fragments of evidence paint a chilling picture of our tenuous existence. The fate of reality is bound to that of a young poet.

Dheghōm is an astonishing novel by award-winning game designer Richard A. Bartle. His imagination, insight and immense narrative range combine to create a staggering tour-de-force of truly original science fiction.
This intelligent, deep-thinking work is the first in a projected series of three.
Dheghōm is available here in both electronic and print format.
Dheghōm fits the NotByUs paradigm because it's paints a horror-like picture without being horror.