(Ln(x))3
The everyday blog of Richard Bartle.
RSS feeds: v0.91; v1.0 (RDF); v2.0; Atom.
---
6:58pm on Wednesday, 26th July, 2017:
Interviewed
Anecdote
I spent an hour today being interviewed by games and technology journalist, Aleks Krotoski, for a BBC series she's doing about the development of the Internet. I've known her for several years (I lost part of a tooth once at an event we were both speaking at) (not her fault); she's actually Dr Aleks, but I can't help but read that as Daleks so I try to avoid writing it down. For reasons something to do with the removal of sewers, today she was broadcasting from inside a closet where the hanging clothes would cut down on echoes. So, Narnia, then.

I've done many interviews about the early days of MUD over the years, but Aleks asked me a series of questions today that I've never been asked before, to do with the culture back then and how it did or didn't affect the Internet today. They were really interesting, and I had to think to answer some of them. Of course, I could have just made up the answers because she's no way of checking, but I wanted to know the answers myself. Why was I able to log on to MIT without needing a password, just a user ID I supplied myself?

As with all such interviews, I'll be lucky if two minutes of it make it to the final edit. Still, I enjoyed the discussion, and will be trying to catch the rest of the series when it airs.

The university's media suite is better than the one the BBC used to have in Colchester, which they closed during budget cuts a few years ago. I hope the organisation spends more of the money it saved on journalists the quality of Aleks rather than on presenters who, if they want higher salaries, are welcome to move to commercial broadcasters to try to obtain them.




---
4:37pm on Tuesday, 25th July, 2017:
Honesty
Anecdote
My mother's favourite aunt and uncle were known to me as Auntie Edie and Uncle Tom. Like pretty well everyone else in the village, Uncle Tom worked in agriculture, mainly with tractors.

We liked visiting them as children, as they had what we thought was an enormous garden and a quirky house which featured a cellar, a room half-way up the stairs, a larder, a kitchen on two levels (one three inches above the other) and a sink with three taps (hot, cold, don't-drink-that-it's-rainwater). They had eleven cats, and walls covered in paintings.

The paintings were done by Uncle Tom. He was the only person I knew who could paint, and I've had one of his paintings all my life (this one).

The best painting, to my eyes, was one we always called Honesty. Indeed, I think it may have been the only one of his paintings ever to have a name. When he, then Auntie Edie died, it went to my grandmother. When she died, it went to my mother, who gave it to me. It now hangs on the wall on the upstairs landing.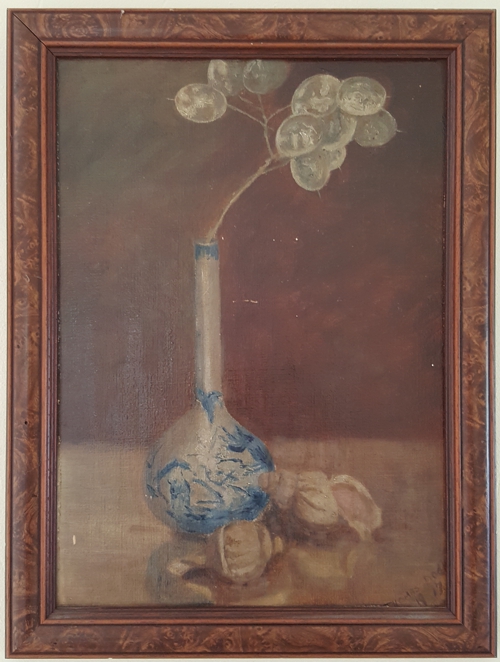 It's mainly brown, because oil paints weren't easy to come by and he had to use what was available. It has some chips and scratches in the paintwork that it's acquired over the years, too. I'm still a fan, though. The vase is beautiful, and the flower in it — known as honesty in Yorkshire — is one of my favourites. This was the picture that, when I looked at it and tried to figure out how to make daubs of paint look like something, told me I was never going to be a painter. I just don't have that skill.

Had he been born in a different world at a different time, Uncle Tom could perhaps have made a career as an artist. He never stood a chance with his background, though. So it still is today: so many people have creative skills that others value — whether it's painting, writing, composing, sculpting, acting, dancing, architecting buildings, designing games — yet so few have the opportunities to put their talents to use.

When I was a child, I liked Honesty because of the artistry and the subject matter. I still do, but as an adult I also like it for the feeling of melancholy it imbues.

Honesty was painted in 1917 — a hundred years ago — by an 11-year-old boy.




---
6:28pm on Monday, 24th July, 2017:
Interview
Anecdote
When I set off to work this morning, I was expecting to leave for home again at about 1:30pm following consecutive meetings with students and supervisees. However, it turned out that a joint interview I'd agreed to do with one of my (now former) students, Cristiana Andrade Pacheco, was today rather than Wednesday, so I didn't leave until 5pm.

The interview was for the university's alumni magazine. The idea is that two students who studied the same subject at different times are interviewed together about their experiences at the university. I was expecting that to be fun, and indeed it was, as we do have different perspectives (I still regard console handsets as new-fangled, for examples). It was preceded by forty-five minutes of photography, though, of which one picture, perhaps two at most, will be used. If I'd known I was being interviewed today, I might have gone to the effort of putting on a better shirt and some games-related cufflinks. As it is, I look my everyday slobbish self, and can also expect to appear really creepy sitting next to a woman over 35 years younger than me. I can foresee people offering Cristiana therapy or legal advice once the article is published.

Still, it'll show all those readers of the university magazine that I'm still alive and haven't lost my hair, which is good enough for me.




---
6:05pm on Sunday, 23rd July, 2017:
Dear and Loving
Weird
I did some more genealogy research over the weekend, on account of how a scan of a will I've been trying to read online for three years suddenly became readable. That particular will was useless, but some others were helpful and enabled me to push back a couple more generations.

One of them could have been more helpful than it was, though.

So, one of my ancestors is John Faulkner (or Falkner or Falknor or Falconer), who did in March, 1733. From various things said in the will of one of his sons, I know his wife's maiden name was Holm. The parish records aren't extant in the particular part of Cheshire they lived in, so I can't find it from marriage records. However, John left a will. Surely she's mentioned in his will?

She is, quite a few times. This is how he refers to her:





"my dear and loving wife". He does that every time. Every damned time. It's as if he doesn't remember her name, but is afraid to admit it.

I did, however, note that he named his dear and loving wife as one of the executors of his will. When wills are approved, this fact is entered in a register. Included in the register are the names of the executors. So, if I could find the register entry, that should tell me the name of John's wife.

Registers aren't often online, but luckily for me many of the ones in Cheshire are. I managed to track down the record of the approval of John's will. Here's what it said:





It's a conspiracy, I'm sure of it...




---
1:51pm on Saturday, 22nd July, 2017:
Foam
Weird
After the bee wrangler took out our bees, he said he'd put some foam in the tree trunk to stop any coming back.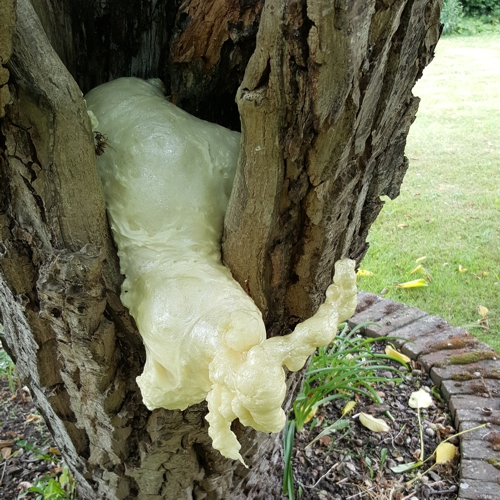 I wasn't expecting that the method would involve frightening bees into believing that the tree trunk was an opening to the gates of Hell.




---
1:37pm on Friday, 21st July, 2017:
Stuffed
Weird
Ye gods, they over-stuffed my bacon and egg sarnie today: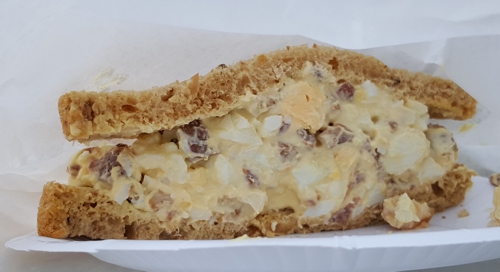 I thought I was going to have to ask for a knife and fork.




---
8:35am on Thursday, 20th July, 2017:
Cufflink Crisis
Anecdote
Somehow, in the process of unloading my suitcase from the ship last week, the baggage handlers managed to break one of my cufflinks.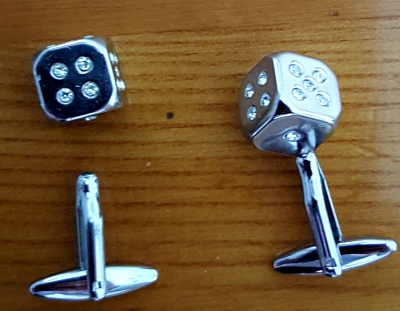 I don't know how they managed it, because I'd put the cufflinks between two items of clothing so they wouldn't rattle around. I suspect ultrasonics were involved.

Anyway, these were my go-to cufflinks for classy events so I really wasn't pleased they were no longer usable. I might have been able to solder them back together, but not in a way that didn't make them look as if they'd been soldered back together.

When one of my Space Invaders cufflinks died in March, I went to the Internet and bought some replacements. The replacements looked the same in the photo as the one that had died, but when I received them they were three times as thick and looked as if they were stuck to plywood instead of metal. I was not impressed.

It was thus with some trepidation that I found and ordered (from Argos, of all places) some dice cufflinks to replace the ones that had broken. Amazingly, though, they turned out to be exactly the same as the ones that had broken, except for being not broken.

Yes, I am at home all day today and going nowhere, which is why I'm reduced to regaling you with tales of game-related male jewellery.




---
2:38pm on Wednesday, 19th July, 2017:
Graduates
Anecdote
Today was graduation day at the university, and for once I was able to be on campus. I didn't dress up and participate in the ceremony, but I watched it on the newly-installed large screen in square 2. The most entertaining moment was when the Head of School tried to pronounce the name Sian as if it were Chinese, three times in a row. That tells you how boring these things are...

I milled around a bit, saying goodbye to those of my former students who don't scarper when they saw me coming. Lecturers like to think that their students will remember them fondly, but most of them will barely give them a second thought in the years to come. We may look on them as individuals we've nurtured and hope to see do well, but most of them regard us as purely functional and we're no more likely to be worth a farewell handshake than would be, say, a bartender.

I know the faces of my students, and I know their names; what I know only infrequently is which name goes with which face. It's ironic that the last occasion on which I'll ever see most of them is the first one when I know who the majority are.

That's if I can recognise their faces, of course. The young men are the hardest, because as students they often look as if they sleep rough, but for the graduation ceremony they have a shave and a haircut and are transformed into completely different people. It's as if a combination of parential pressure and the need to attend job interviews gives them a whole new sense of caring about how they look. Don't worry, though, lads — it doesn't last. I always look scruffy, no matter how hard I try to look smart.

The degree was conferred by the Pro-Chancellor, because our actual chancellor, Shami Chakrabarti, had to resign when she joined the shadow cabinet. Our university constitution forbids having people with a party-political role from being the chancellor. Our new chancellor doesn't start until August, and is going to be John Bercow, the Speaker of the House of Commons. After much discussion, it was decided that although he's a Conservative MP, as Speaker he's neutral so isn't party-political, so we can have him. He's a graduate of Essex University, so does actually like us.

There was no honorary graduate for the science faculty this year, because there are many graduation ceremonies now and they can't all have an honorary graduate. If they knew that, though, why ask us to nominate candidates?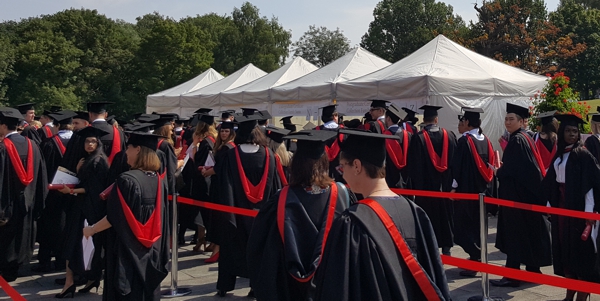 In terms of undergraduate degrees, this year the School of Computer Science and Electronic Engineering awarded 44 firsts, 44 two-ones, 25 two-twos, no thirds, no passes. This may be because the people who might have got thirds and passes never made it to the final year.

That said, when I was an undergraduate there were only about 30 students doing programming at undergraduate level. Two-two was the average mark, and very often there would be no-one who graduated with a first. In my year, there was only one first (me); now, nearly two fifths of the cohort (who graduated) were classified as a first. This is what comes of having university degree standards determined by the Times university rankings league; either that, or we attract a much higher calibre of student (as I doubt it can be down to our superior teaching methods!).

When I got home after today's ceremony, I had to OK two resit examination papers to be sent to the Examination Office. Life goes on...




---
2:08pm on Tuesday, 18th July, 2017:
29 Years
Comment
I know glaciers move at a glacial pace by definition, but I was expecting them to move forwards, not backwards.

On the left, the Briksdalsbreen glacier as it appears in the 1988 book, The World in Focus. On the right, as it appeared two weeks ago.





That's quite a way in 29 years. If I were to return when I'm 86, it'll probably be out of sight.




---
5:46pm on Monday, 17th July, 2017:
Stripes
Anecdote
These four chaps were munching a weed in our garden this weekend: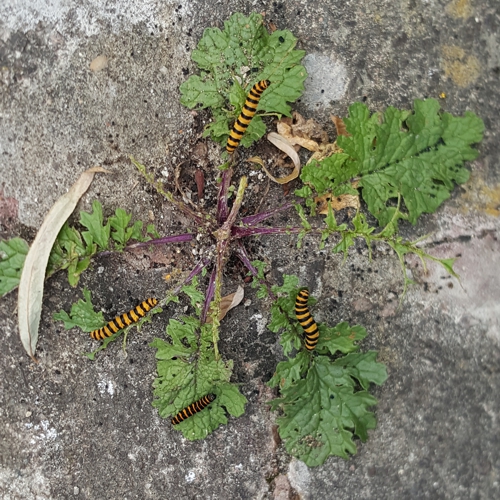 The Internet informs me that they're the larvae of cinnabar moths. They start off yellow then develop danger stripes as they eat more and more poisonous plants.

That's OK, though, I wasn't planning on eating them anyway.




---
8:11pm on Sunday, 16th July, 2017:
Poses
Weird
Adjacent advertisements in the Sunday Timess travel supplement today: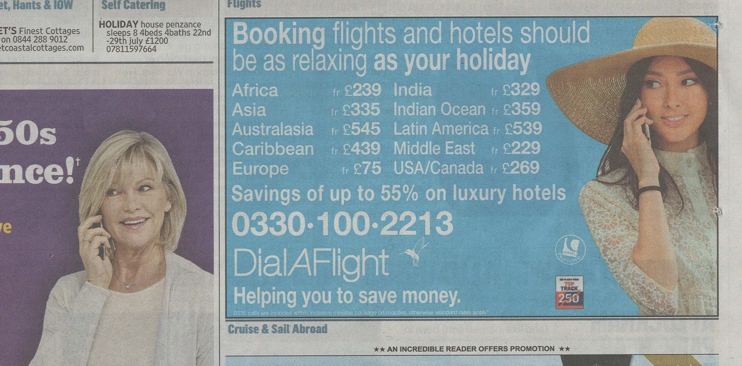 Striking poses suddenly became a lot easier.




---
11:44am on Sunday, 16th July, 2017:
Growth
Anecdote
The day before we went on our hols, my wife cut back the brambles growing in one of our hedges. This is what they look like two weeks later: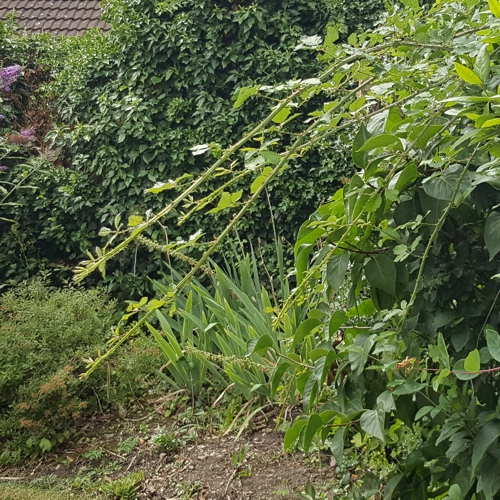 That's over a foot of growth per week. If we'd gone away for a month, we'd need a flamethrower to clear them.




---
12:36pm on Saturday, 15th July, 2017:
Overly-Dramatic Sign
Weird
I saw this sign in Norway.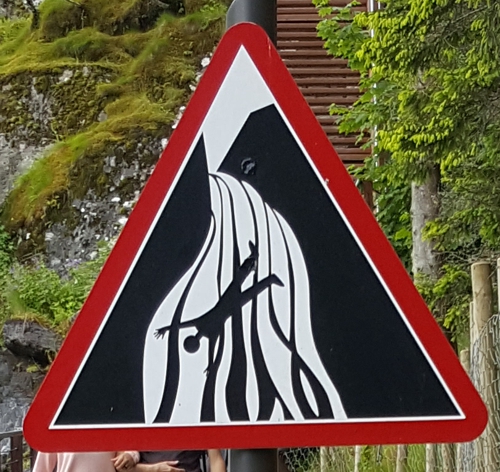 We don't have signs quite like that in the UK.




---
4:09pm on Friday, 14th July, 2017:
Home
Anecdote
We're back home now. The postcard we sent our younger daughter a week ago on Wednesday beat us by about an hour.

Ah, Britain...




---
2:37pm on Thursday, 13th July, 2017:
At Sea
Anecdote
Today is a sea day, so is scheduled to be utterly eventless. All we have to do is pack our suitcases by 8:30, which we've managed to do with six hours to spare. I think my tuxedo is going to need an ironing whenwe get back, though. We've filled in our customer service form, deciding not to knife either our cabin steward or waiter on the grounds that they were actually pretty good. I did criticise the amount of fish on the menu, though.

Unlike on previous trips, the customer service form didn't include a part where we rate the ports we visited. Still, as I'm sure that the executives at P&O read every word I write on the Internet, I figure I can answer that here.

So, as a first-time cruiser of the fjords, which of the destinations did I like best?

Hmm.

Haugesund isn't really used to cruise ships yet and a bit run-down. The people we're on the dining table with (Judith and Brian) really liked it because of its museums, but they're seasoned fjorders who haven't been there before. From my perspective, Haugesund should have been Bergen. It was a decent town but I'm in no rush to return.

Olden itself was nothing special, but the trip to the glacier was one of my highlights. The glacier itself was a bit of a disappointment as it's retreated so much, but the journey to reach it was well worth the shoe leather.

Aalesund was an attractive town — probably the most attractive of the ones we saw, although modern developments have scarred it somewhat. The view from the top of the 418-step climb was astonishing, as were the prices of the ice creams there. There wasn't a lot else to do in the town, though, except visit museums on subjects that didn't particularly interest us.

Andalsnes was a bit different, being a small but thriving town that didn't have a lot but which gave the impression that the people who lived there liked living there. We originally booked the trip to the stave church and troll wall in order to see the troll wall, but actually it was the stave church that we liked the most, it was utterly charming.

Trondheim was marred by rain and steep prices. There were some very pleasing old buildings there, but I preferred Stavanger's overall. I'd like to go back to it sometime when the sun is out, as I don't feel I saw its best side.

Hellesylt was a one-trick pony: a large waterfall in the middle of a small village. The waterfall was good, even having had 1,000 yellow plastic ducks dumped into it for charity, but there was nothing else there for us. We saw better waterfalls on the trips from Olden and Flaam, too.

Geiranger is flat-out tourist central, but does manage to have some individuality to it nevertheless. The trip to the viewing point at Dalsnibba was my favourite experience of the whole cruise. I know that Geiranger is well aware of its assets and exploits them to the full, but that doesn't detract from the fact that it does have them. I have to rate it very highly.

Flaam was nothing much itself, being primarily a place where cruise ships meet the railway. Although the rail journey was indeed very scenic, I think it was oversold somewhat. Even possessed women dancing in front of a magnificent waterfall can't make up for the fact that half the journey you're looking at a mountain face rather than a view. When you got a view, it was good, though.

Stavanger was my favourite of all the larger towns we visited, even though there was rain in the morning. Its old town was pretty and its pedestrian centre was full of unusual shops (as well as several very usual ones — no Burger King needs to be that big). There were some museums I wanted to see (but didn't), so I'd definitely be up for visiting it again.

So, in order of what I liked the most (not necessarily in order of what I'd like to see again), we have:
1 Geiranger
2 Olden
3 Stavanger
4 Aalesund
5 Andalsnes
6 Flaam
7 Trondheim
8 Hellesylt
9 Haugesund

We're at sea today, with no hope of any Internet connection, so this isn't going to be uploaded until tomorrow.




---
Latest entries.
Archived entries.
About this blog.
Copyright © 2017 Richard Bartle (richard@mud.co.uk).