(Ln(x))3
The everyday blog of Richard Bartle.
RSS feeds: v0.91; v1.0 (RDF); v2.0; Atom.
---
11:36pm on Thursday, 12th December, 2013:
Note to Indian Restaurants
Outburst
Waiters at Indian restaurants: when a customer says they don't want anything that's in any way spicy-hot, not even the mildest of the mildest of green chilli oil, do not recommend to them a dish that has green chilli oil as an ingredient, then suggest they have some rice with it that, when it arrives, it also transpires is spicy-hot.

It may be hard to comprehend, but people who say they don't like spicy-hot food don't like spicy-hot food.

The main course was good though.




---
11:33pm on Thursday, 12th December, 2013:
Interactive Entertainment
Miscellaneous
I was in London for most of today for the 2013 Interactive Entertainment Summit (invitation only). As usual it was pretty good. You always know such events are going to be quality ehen what comes out of the urn marked "coffee" tastes if coffee.

The main takeaway from the investment panel changed this year: now you can only expect to raise money from a venture capitalist if you are making free-to-play games for mobile.

Well, that's in addition to the default: they will give you money if you can demonstrate categorically that you don't need it..




---
8:18am on Wednesday, 11th December, 2013:
Saturnalia
Comment
I have to say, I love the Christmas card I received from the British Humanist Association: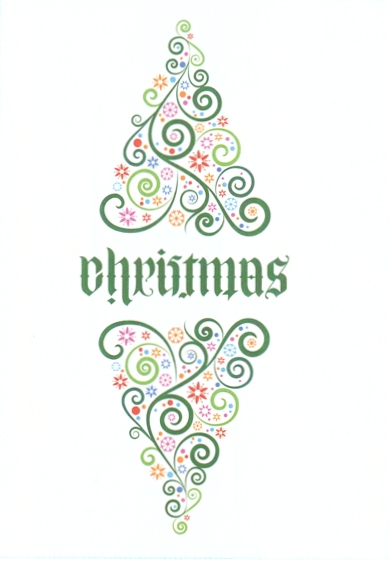 It might seem odd that a group of atheists would send out a Christmas card, but when you look at it upside-down: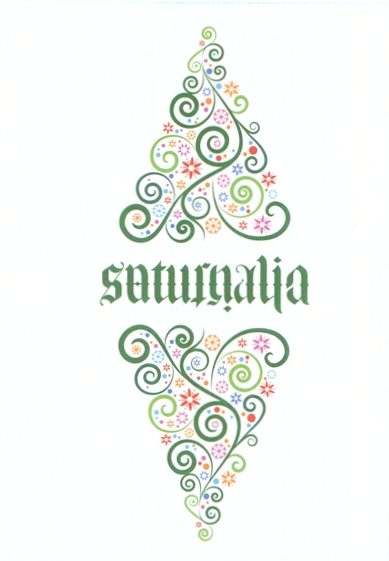 Yeah, pretty much!




---
3:34pm on Tuesday, 10th December, 2013:
So Long, Lua
Anecdote
Well, I won't be teaching Lua next academic year.

After the exam disaster last academic year, in which three-quarters of the students taking CE317 made no meaninful attempt to answer the Lua question (despite the fact that they had to in order to get 20% of the marks for the paper), this year I decided I'd ask students whether they wanted a Lua question on the exam or not. As today was the final lecture before I have to set the paper, it was today that I asked them. They voted 11-5 against a Lua question (with the remainder either not voting or not present to vote).

When I first taught Lua, I thought the students would lap it up — as indeed they did. It's a lovely little language, and we're in a Computer Science department: they should enjoy learning it. In the past they did enjoy it, but it seems that last year was a tipping point. Now, people can get to the final year of CS degree and not regard a programming question on an exam as a gift but as a fine. Oh well.

This year's students have done an assignment in Lua, so their understanding of it has been assessed, but as it's not going to be on the exam this raises the question as to whether it should even be in the module. Given that next year's cohort are even less likely to want to face it (3 students out of 21 showed up at my CE217 lecture this morning), it's probably best if I drop it and replace it with some non-programming virtual world material instead. It's not as if I'm short of things I can talk about.

Four or five years ago, one of my students got a job for an MMO developer on the strength of his Lua coding skills. How times change...




---
5:44pm on Monday, 9th December, 2013:
Mistaken Identity
Anecdote
I finally got around to ordering a new badge and some business cards with my Honorary Professor job title on them. I had to drop off the old badge with Lynda,

OK, so Lynda is someone whose name I have seen countless times in emails and with whom I have had extensive email conversations and some over the phone. She's part-time, but shares an office with two other people so I knew that if she wasn't in I could just drop off the badge.

I went to the office, presented the badge to Lynda and she looked at me blankly. It wasn't Lynda. The person I've thought was Lynda for years is actually Sandra. Lynda was sitting at a desk, wondering why I was calling Sandra by her name.

What makes this spooky is that last week, the person I now know to be Lynda came up to me as I was walking around and addressed me in the belief I was Richard Sutcliffe. We'd both thought the other was someone completely different.

There's probably some physical law of entropy governing all this...




---
1:08pm on Sunday, 8th December, 2013:
Blucher
Anecdote
When I was a kid, we'd sometimes go and stay with my maternal grandparents for a couple of weeks over the summer or Christmas. My grandfather (who was a farm labourer and spoke using thee, thou, thine and so on) would on occasion affectionately call me or my brother what sounded like BLUE-tcher. When I asked him why, he told me it was the name of a Prussian general who led the cavalry at Waterloo (so that's Gebhard Leverecht von Blücher).

I have no idea why he would sometimes call us Blücher. My best guess is that his own father called him that when he was a lad, but as for why he'd have done that... I suppose that someone back up the family tree must have had a reason.

If I have grandchildren, I shan't be carrying on the family tradition and calling them Blücher. Well, not unless that's what their given name is, but I don't think either of my daughters is that cruel.




---
3:32pm on Saturday, 7th December, 2013:
Of All Time
Outburst
From today's Guardian:

the detailed planning can begin for a tournament Fifa president Sepp Blatter promised would be "the greatest of all time"

Of all time? Really? There's an awful lot of time to go. The word he's looking for is "yet".

It greatly irritates me the way that "all time" is used to mean "all time so far". It implies that the future will be unable to match the glories of the past. Those lists from the 1980s of the greatest movies "of all time" were the same tired hyperbole then that today's lists of the greatest movies "of all time" are now.

"All time" does means "ever". If you mean "so far" use "yet".

Also from today's Guardian, quoting Sir Paul McCartney:

"Nelson Mandela was one of the great men of all time"

See, that stands a chance of actually being true.




---
1:59pm on Friday, 6th December, 2013:
Multiplying Decorations
Anecdote
I just took our Christmas decorations down from the attic. It used to be that they all fitted in one large box, but now we have the same box plus two large bags plus three or four smaller boxes and a tin.

This didn't used to happen in the days when decorations were made of glass and half a dozen got broken every year.




---
5:20pm on Thursday, 5th December, 2013:
Old Laws
Anecdote
Every year, I ask my CE317 students to read The Laws of Online World Design. I split them into groups, and each group produces its top 5 most important laws. Sometimes they come up with completely different sets, but often they intersect quite a bit.

Over the years, two of the laws have consistently been chosen in the top 5 of most groups:

Never trust the client.
Never put anything on the client. The client is in the hands of the enemy. Never ever ever forget this.

Rickey's Law
People don't want "A story". They want *their* story.

I wouldn't argue with either of those decisions, although it's still amazing how many modern MMOs completelty disregard them.

Looking back at the laws, though, it's clear that they're of their own time. The emphasis on role-playing, for example, is now largely irrelevant (mainly because one of the laws — Koster's Law — is correct, and the quality of role-playing is indeed inversely proportional to the number of people playing). Many of them remain as strong today as they ever were, however, and when I asked the students this year if I should repeat the class next year, they were all for it.

I don't personally agree with all the laws, but anything that gets students to think is good. They can make up their own minds.




---
3:52pm on Wednesday, 4th December, 2013:
Visit Day
Anecdote
It was the first visit day of the academic year today. A visit day is one in which prospective students come to the university to have a look round and to be interviewed. It helps us find out who we want here and helps them find out if they want to be here.

That's all by the bye, though. The important thing is that we lecturers get free sandwiches for lunch.

Every year, some old varieties of sandwich are phased out and some new ones are introduced. There are some staples (when all else fails, you can always rely on the egg ones) but usually there's some experimentation. The first visit day of the academic year is therefore a source of excitement tinged with a little dread. What will we be being served up for the next 4 months for our free lunch?

The big newcomer this time was a spring onion and mayonnaise sandwich. When I picked one up, I'd done so in the belief it was some kind of egg-with-green-stuff-in-it variation, but soon discovered it was Something New. Actually, it wasn't bad at all.

I won't be having any more, though. There's no need, given the fact that several hours later I can still taste nothing else in my mouth but spring onions, despite everything else I've eaten since then. I'll probably still be able to taste it in April...




---
6:01pm on Tuesday, 3rd December, 2013:
Better Out than In
Miscellaneous
The news coverage regarding Tom Daley's announcement that he's dating a man has been rather weird. It seems to focus on three main points:

1) That he's brave for coming out.
Well yes, but we already know he's brave. He jumps off a 10m-high board into a pool while spinning and twisting and turning. He could break his neck. Of course he's brave — being brave is part of his job specification!

2) That there are many non-heterosexual people in sport who haven't come out.
This is undoubtedly true, but it's the way they use the figures that I'd like to question. Usually they take some fraction (3% in the BBC's case) that estimates what proportion of the general population is gay, then they apply it to some occupation that claims suspiciously few gay participants (in a sports context, this is usually men playing soccer), then they estimate how many people who pursue that occupation must be in the closet. This fails to take into account that some occupations seem to be more or less attractive to gay people than others. There are many top-ranking female tennis players who are out, for example — certainly more than 3%. I don't know why this is the case, but, its being the case, there should be a caveat attached to the use of population-wide figures applied to sub-populations. After all, around 51% of the population is female, but that doesn't mean half the players of the Premier League are secretly female.

3) That this shouldn't be news.
The media seem to be quite self-reflective in wondering why they're reporting the news that Tom Daley is gay (actually, from his own account, bisexual is probably the more accurate term). Why is it news that he's said he's dating a man? It wouldn't be news if he'd said he was dating a girl. Hmm, well I agree with them that it's not news that he's dating a man, but that's primarily because most of the population has assumed for years that he's gay. It's no surprise at all that it turns out he is.

It would be great if we saw a wave of other sports people come out as a result of this — even if they did so for safety-in-numbers reasons. It would be especially good if an England football player were among them: that way, we could get rid of the dreadful term WAG for "wives and girlfriends" that's used to reduce partners to stereotypes every World Cup...




---
9:33am on Monday, 2nd December, 2013:
A Designer, Not a Poet
Comment
To create great work in a medium, you have to see the world through the terms imposed by that medium.
The creators of great works operate in the medium that best matches how they see the world anyway.
Game design involves the understanding and creation of interacting systems.
Therefore, the people attracted to game design are precisely those who naturally think in terms of interacting systems.

To create a system that works, you have to consider ways that it could be broken.
The creators of working systems have to think how the users of those systems might think.
Games involve many players thinking in many different ways.
Therefore, the people attracted to game design must naturally think in terms of how systems can be broken.

To change the world, you have to communicate with those who have the power to change it.
The consumers of great works pick up on the world-views of the creators of those works.
Game designers see interacting systems as functioning structures which can be broken.
Therefore, the players of games will also come to understand that functioning structures can be broken.

To be free, you have to live in a world where laws liberate you, not define you.
The people who are governed have the power to change how they are governed.
Games are teaching their players that broken systems are for exploiting.
Therefore, as more people play games, the freer they can make themselves.




---
3:48pm on Sunday, 1st December, 2013:
1 Percent Grey
Anecdote
My local newsagent is going to have to face the fact that he needs a new ribbon for his printer:





I had to put a black piece of card behind that to scan it, because with the default white it was invisible.

My guess is that the reason he hasn't replaced the ribbon is because they don't make ribbons for his antique dot-matrix printer any more.




---
2:45pm on Saturday, 30th November, 2013:
Independence
Comment
Suppose that the Scots vote for independence in the referendum on 18th September, 2014. The date of independence would be 24th March, 2016, in order to allow tiem for negotiations with the rest of the UK for the divvying up of assets and debts and the orderly transfer of power.

There's a general election due in 2015. This election could well be won by Labour thanks in no small part to the number of seats they are likely to hold in Scotland. That would mean a government reliant on the votes of Scottish MPs would be negotiating with the Scottish parliament for a deal over Scottish independence.

That sounds as if it could lead to a deal rather more favourable to Scotland than it perhaps ought to be.




---
9:22am on Friday, 29th November, 2013:
Offer
Weird
I don't play golf myself. My main preoccupation with it is whether I should write its name as "golf" like everyone else does or as "Golf" like I do with other games.

That said, it does occasionally impinge on my life. When I go to the train station in Colchester, I drive past a golf club (by which I mean an association for golfers, rather than a tool for striking a golf ball). When I'm on the train, I go past another. An advertisement for the latter was in among the bunch of fliers I was reduced to reading at breakfast this morning as I didn't have anything else within reach to read.

So, previously I felt confident that golf was a snobbish, expensive sport, but in the light of this new information I'm coming to believe that there are two ends to the market: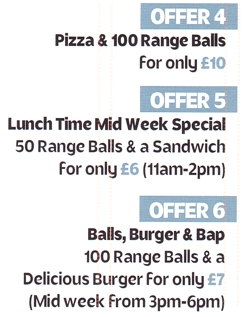 They seem to be expecting that people will think, "Hmm, normally I wouldn't be tempted into paying £6 to use a stick to hit a ball into a hole, minus the hole, fifty times, but that sandwich has sold the idea to me". I can imagine the queues forming right now. I particularly like the way that the burger is flagged as being delicious but the pizza and sandwich aren't; it suggests that laws against false advertising may be casting their shadow over the text.

They spelled "buggies" as "buggy's" in offer 3 on the other side of the paper, too.




---
Latest entries.
Archived entries.
About this blog.
Copyright © 2013 Richard Bartle (richard@mud.co.uk).