(Ln(x))3
The everyday blog of Richard Bartle.
RSS feeds: v0.91; v1.0 (RDF); v2.0; Atom.
---
4:11pm on Saturday, 27th August, 2016:
1883
Comment
I'm sure someone will get around to doing something about this eventually.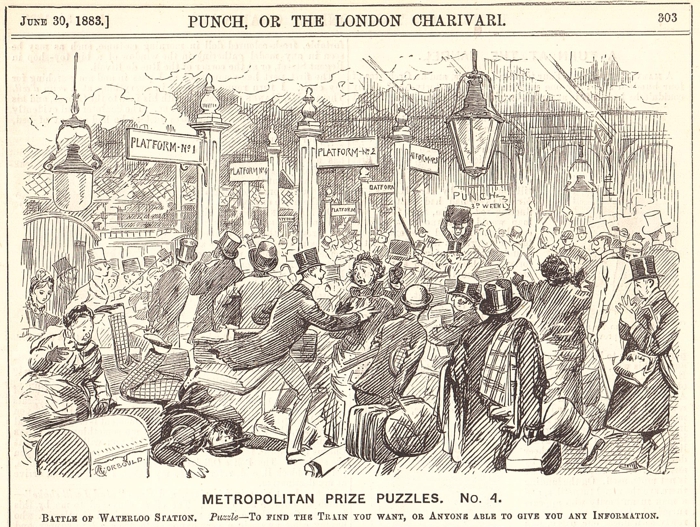 ---
9:16am on Friday, 26th August, 2016:
Options
Comment
So, I took to heart all the opinions on the book covers I uploaded on Monday, and here are the revised versions (of the part I changed):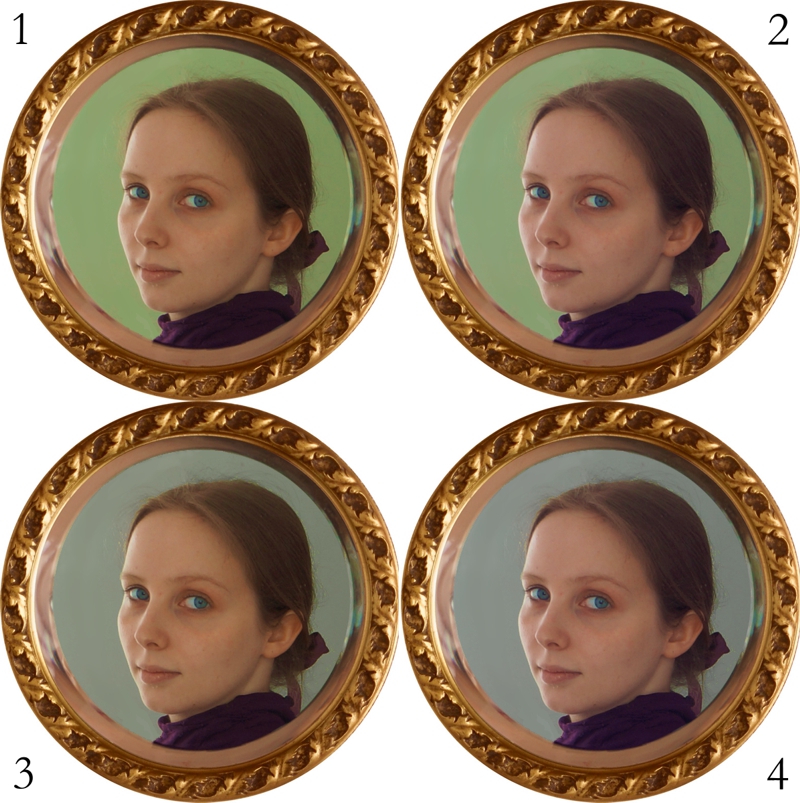 Number 1 is the original image but centred on the left eye.
Number 2 is number 1 with a blue filter.
Number 3 is number 1 with a grey background.
Number 4 is number 1 with a blue filter and a grey background.

Votes/suggestions please!

Note that it's anyone's guess what the winner will look like when it's printed on actual paper...




---
1:15pm on Thursday, 25th August, 2016:
Books
Anecdote
After a bit of a wait, yesterday I finally took delivery of the 10 free copies of my MMO books to which I am entitled.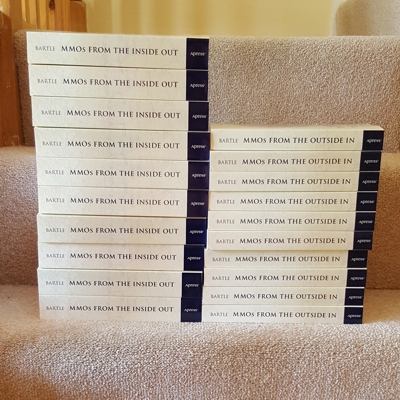 Yay! So, that's one for me, one for my mum, one for my dad, one for, er, for..?

I don't suppose there are any games book reviewers out there reading this, are there?




---
2:50pm on Wednesday, 24th August, 2016:
More Space
Anecdote
After criticising my daughter for having no free space on her laptop, I checked to see how much space I had left on mine. There was enough to get by, but I knew I had a huge Linux partition I didn't really make much use of so I decided to delete it and hand the space over to Windows 10.

First, I backed up all my files. I've been in this hell before.

Deleting the Linux partition was easy enough. However, I couldn't extend my C: drive to cover it because this was originally a Windows 7 PC and it had a recovery partition between them. Windows 10 doesn't let you delete recovery partitions, but HA, diskpart.exe does so I smashed it with that. This allowed me to extend my C: drive to use the former recovery partition space, but I couldn't extend it to reclaim the Linux space as I got some error message about there not being enough space free to do so.

Losing my patience at this point, I downloaded a free tool, pwfree, to partition it for me. I cranked it up, made the changes I wanted, then applied them.

Pwfree couldn't complete the changes as my C: drive was in use, so it needed a PC reboot. I let it do it.

That's when I discovered that the dual booting software I use was installed on the Linux partition I'd just deleted.

I got out my laptop and did some searching.

It turns out that the way to fix a master boot record issue is to put in the installation disc and tell it to do a system recovery. Of course, I didn't have a Windows 10 disc as it was installed from a download. I did, however, have a Windows 7 one, so I used that.

It turned out it was a Windows XP one. To do a proper recover, it just wanted me to input the administrator password. I don't know what the administrator password is, and it didn't like any of the ones I dacrificed to it instead. I did manage to get to a console, though, where I was able to fix the master boot record. The effect of this was to change the error message from the one the loader was giving me to one telling me I didn't have a boot managed.

I gave up. I downloaded a Windows 10 media tool on my laptop and set about creating a bootable USB.

You know how USB sticks jut out a little from the side of a laptop? It turns out that if you move your keyboard you can catch one and knock your laptop to the floor. I can attest to this. It took me 15 minutes with a pair of pliers and a sharp knife to bend the metal frame back so it wasn't permanently pressing on the built-in left mouse button on the laptop keyboard.

Restarting the download, which was going to take ages, I put away the Windows XP CD and in so doing came across the Windows 7 one. I managed to boot from this and it launched Windows 10. Well, it would have done, but pwfree still wanted to finish its partition work from earlier so it took over and did just that (at a very pedestrian pace, as if it didn't like having been kept waiting). It did another reboot, which seems to have worked. I am now able to type this.

I'm currently doing a disc scan, because when I tried to create a USB recovery stick it said it couldn't do it (no reason, just it couldn't). I do, however, appear to have all my hard drive back at my disposal. Woohoo!

Now to go do the same thing to my daughter's PC, so she has more room for all the viruses that live on it.




---
1:16pm on Tuesday, 23rd August, 2016:
Dondorf 25
Anecdote
I snagged some more playing cards for my collection. They're a little grubby and worse for wear, but here's a sample:





This is Dondorf's number 25 Kinder Spielkarten set, which has children as the face cards. I've been trying to get a pack for years, but they're normally quite pricey as they attract a wide range of interest, not just that of playing card collectors. This explains why the ones I managed to get are wash-your-hands-after-touching-them quality: if they weren't, I wouldn't have been able to afford them. As it was, I got them quite cheap (something like £11 instead of the usual £40+).

How old are they? Well this particular variant was manufactured 1880-1910, but the company added a GmbH to its name in 1906 that my deck doesn't have, so it's from between 1880 and 1905.

If I were that old, I'd probably be pretty grubby, too.




---
8:08pm on Monday, 22nd August, 2016:
Reflecting
Anecdote
My second Lizzie Lott novel is getting dangerously close to being ready for publication, following the major take-out-12,000-words surgery I performed on it to improve the pacing. I'm now at the stage where I need to choose a cover. In order to match the first book, I need a white page with a circular image in the middle.

Here are the two candidates.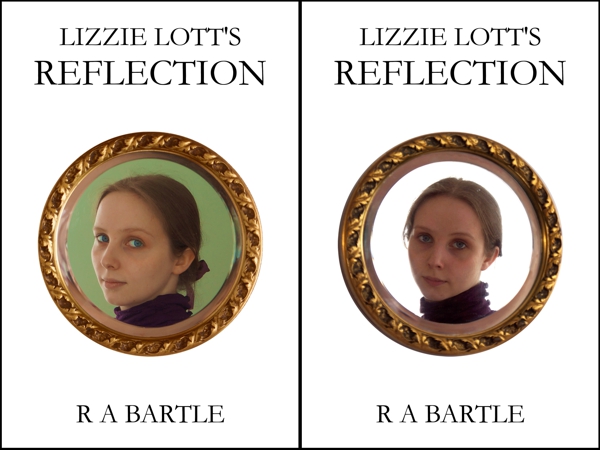 I'm sure the graphic designers among you will take a while to recover, but for the rest of you: for which of them do you feel is more likely (or marginally less unlikely) to sell the book?




---
11:17am on Sunday, 21st August, 2016:
Pedigree
Comment
Most of my ancestors are obstructive and unhelpful when it comes to finding out anything about them. Sometimes, though, one of them will really make an effort to co-operate.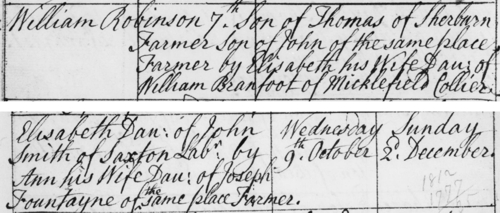 The top line describes William Robinson's father, paternal grandfather, paternal grandmother and a great-grandfather. The bottom line describes his mother, maternal grandfather, maternal grandmother and another great-grandfather.

I'm actually descended from Thomas Robinson's eighth son, Richard, but it includes a reference to the above (presumably because the vicar was tired of writing everything out in full so many times).




---
1:21pm on Saturday, 20th August, 2016:
Splash Out
Comment
My home town made a rare appearance in The Guardian today.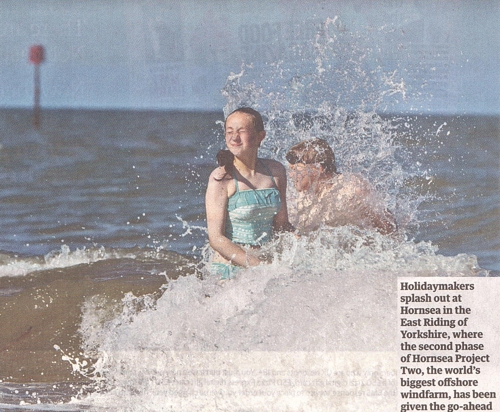 I don't know why it says "splash out". The term they're looking for is "splash".

Nice that the photographer came on a day when the sea was liquid, anyway.




---
8:04pm on Friday, 19th August, 2016:
Forts
Anecdote
Here ya go! A handy map of the forts surrounding Paris in January 1871.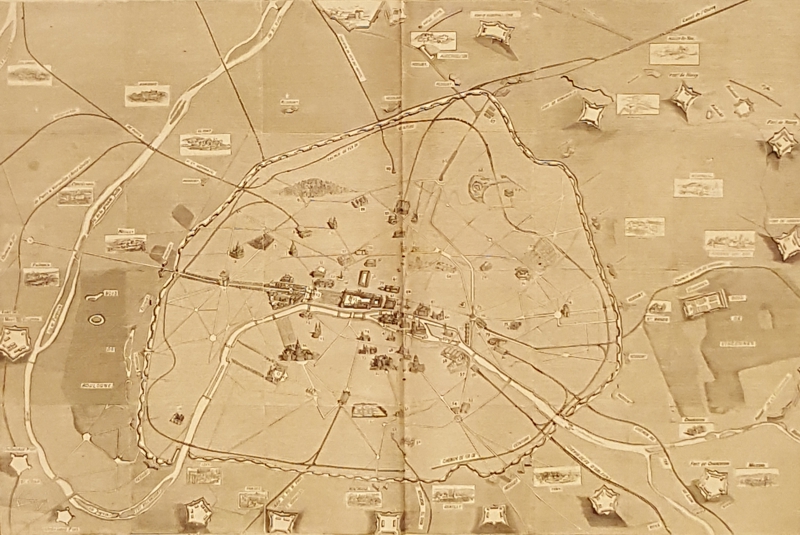 Two months later, their cannons would be pounding Paris.




---
5:17pm on Thursday, 18th August, 2016:
Drakkar
Anecdote
Another example of what you find if you don't throw away MMO publicity material.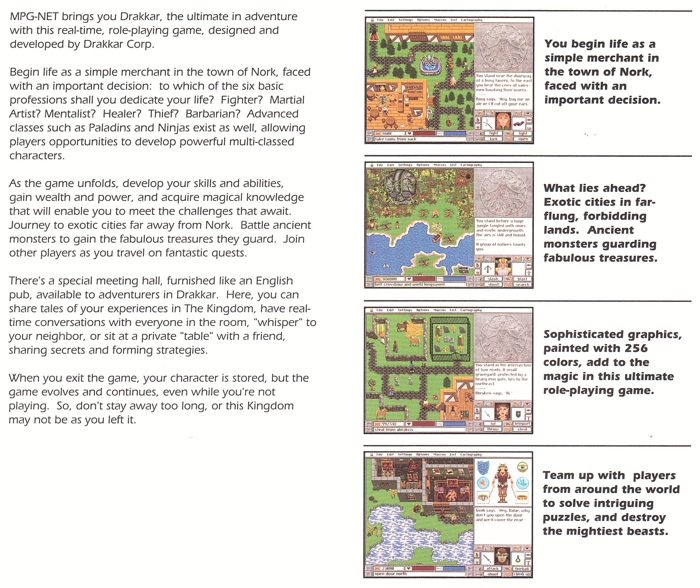 ---
10:58am on Wednesday, 17th August, 2016:
Batman
Weird
This Batman is in a cake shop window in Colchester.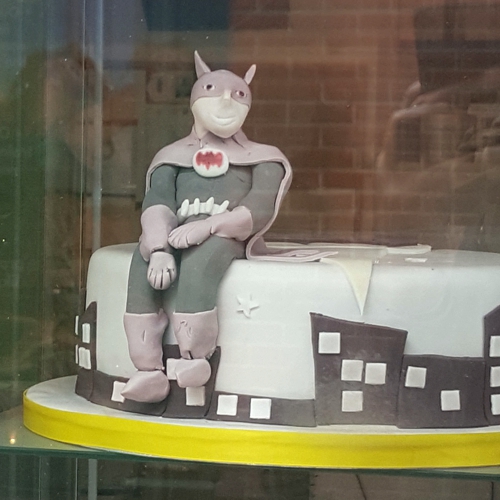 More 1966 than 2016, I think.




---
5:58pm on Tuesday, 16th August, 2016:
Comic Figurine
Weird
I took a visitor round Colchester castle today. It's the first time I've been there since its year-long refurbishment, and I have to say that I'm not impressed. It has fewer exhibits on display than it had before, and it's very oriented towards school visits.

That said, I wasn't expecting to see this chap, described as a "comic figurine".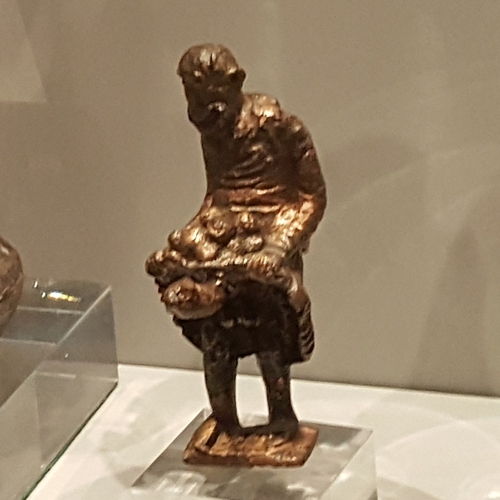 To be fair, I expect a lot of the schoolkids would indeed laugh when they saw him, so he is sort of doing his job...




---
7:32pm on Monday, 15th August, 2016:
No Fun
Comment
It costs a whopping $14 to obtain an Electronic System for Travel Authorization from the US government web site. The process takes ages and it's no fun.

Someone should write a walking simulator for it. They could call it "Dear ESTA".




---
6:59pm on Monday, 15th August, 2016:
Eyes
Anecdote
There's just something about newspaper photographs of people with their eyes shut that I find irresistible...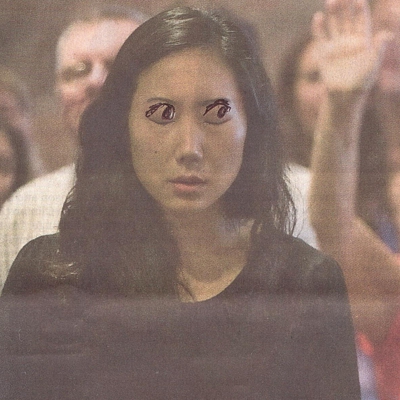 ---
4:14pm on Sunday, 14th August, 2016:
Broken Record
Outburst
The Ancestry.co.uk scans of the Parish Records for Swillington, Yorkshire, for the period 1697-1703 are actually those of Thorner, which is 8 miles north of Swillington. Fortunately, Findmypast.co.uk has the Bishop's Transcript for the period so I noticed the discrepency.

That's didn't happen until after I'd spent two hours trying to figure out which of two candidates to be one of my ancestors was the correct one (answer: the one from Swillington, not the one from Thorner).




---
Latest entries.
Archived entries.
About this blog.
Copyright © 2016 Richard Bartle (richard@mud.co.uk).