(Ln(x))3
The everyday blog of Richard Bartle.
RSS feeds: v0.91; v1.0 (RDF); v2.0; Atom.
---
3:32pm on Friday, 20th July, 2018:
Lenno
Anecdote
Today we visited Lenno, a small town with a name that sounds like that of the gang member who is picked on by all the other gang members. It's quite a sweet little place but not very big; the main reason anyone goes there (including us) is to visit the Villa del Barbarella or something that is out on the promontary.

It's a bit expensive to get into the villa as it's owned by FAI, the Italian national trust (which coincidentally owns a noodle bar in Colchester). We were somewhat alarmed to discover it charged €10 each for the garden plus another€10 for access to the house (on a guided tour only). As a tour was due to start soon, and we'd walked for 20 minutes in the baking sun to get there, we bit the bullet and went in.

I'm glad we did — it was really interesting! The last owner of the house, who bequeathed it to Italy, was an explorer, Guido Monzino (I spent the first 10 minutes thinking it was "widow Monzino"), who was famous for visiting the North Pole and for leading the first successful Italian assault on Mount Everest (only 20 years after the first British expedition conquered it). He had a colection of interesting artefacts he'd picked up on his travels or bought at auction (he was exceedingly rich, as his family owned Italy's first supermarket chain). There were some quite weird and wonderful objects. Also, he had secret doors and passages in the house, which is always a good thing.

The gardens were quite nice, a but reminscent of Portmeirion (unsurprisingly, as Portmeirion was given an italianate look on purpose). They weren't worth €10 each though. The gardens and loggia featured in two famous films: the Daniel Craig James Bond Casino Royale and Star Wars: Attack of the Clones. I've seen the former, not the latter. Nevertheless, enough people have seen it that 10% of the 150 weddings they hold there each year are in Star Wars costumes.

After Lenno, we visited Cabracadabria or whatever it's called, which is directly opposite Bellagio on the lake. There was a path leading up past partly-constructed abandoned houses to the historical centre of the town. This resembled a Mexican village in a western just before the bad guys attacked, with a single, mournful chuch bell ringing out to add to the tension. I don't think we'll be returning unless we left something there by accident.

Tomorrow, we're intending to go to Lake Como, but as thunderstorms are predicted, along with rainfall of 8mm per hour, we may decide to take a sea day and stay in our cabin at the hotel.

Oh, here's the loggia from the Villa del Baldifello.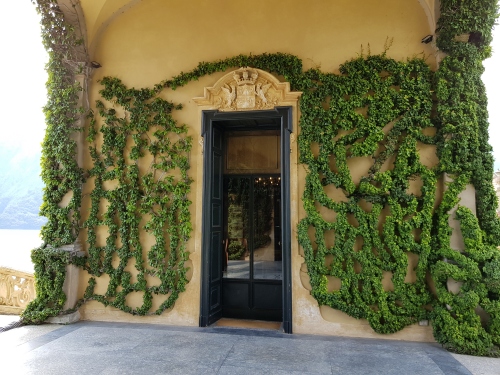 ---
Latest entries.
Archived entries.
About this blog.
Copyright © 2018 Richard Bartle (richard@mud.co.uk).