(Ln(x))3
The everyday blog of Richard Bartle.
RSS feeds: v0.91; v1.0 (RDF); v2.0; Atom.
---
12:15pm on Tuesday, 31st December, 2013:
MBE
Comment
I've known since mid-November what I was going to blog about today. This: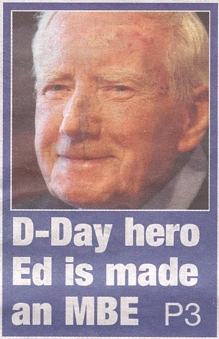 He's not a hero, or at least no more a hero than any other sailor in World War 2. His nomination is: "For voluntary service to
Normandy Veterans" (he's National Chairman of the Normandy Veterans Association).

I know Eddie Slater through my mother, whose second husband was in the NVA. In 2008, I filled in the rather tedious paperwork that nominated Eddie for a letters-after-the-name national award; I had supporting letters from Sir Bob Russell MP, Admiral Sir Desmond Cassidi and Ian Stewart CM. With a professor, an MP, an admiral and a recipient of the Canada Medal, I thought I was in with a good chance — especially as Eddie had already been given a Légion d'Honneur by the French. However, the timing was unfortunate: another member of the NVA executive had (unbeknown to me) been nominated already that year. As honours are not supposed to be handed out like chocolate buttons to members of the same organisation, the Honours Committee gave the other man the nod and Eddie missed out.

I wasn't told my submission had been rejected, however, so earlier this year I queried it and found out what had happened. As Eddie had pretty well single-handedly held the NVA together for the past 5 years, I filled in some more paperwork explaining what he'd done since the last submission (which, its having been rejected, couldn't be resubmitted without evidence of additional contributions to society). This time, the Honours Committee happily decided that they would recommend to the Prime Minister that Eddie receive an MBE. I was told of this success back in November, but had to keep quiet about it as if the news slips out prematurely then the award is withdrawn.

Eddie is actually the third person I've nominated for a national award, although the only one I've done so through the formal form-filling channels. The other two, Jeremy "Jez" San OBE and Peter Molyneux OBE, were as a result of an email exchange with the then eCommerce Minister, Patricia Hewitt. The form-filling approach is definitely the harder...




---
Latest entries.
Archived entries.
About this blog.
Copyright © 2013 Richard Bartle (richard@mud.co.uk).